Old Crow's Synth Shop: The Synth-Tan Project: Yamaha DX7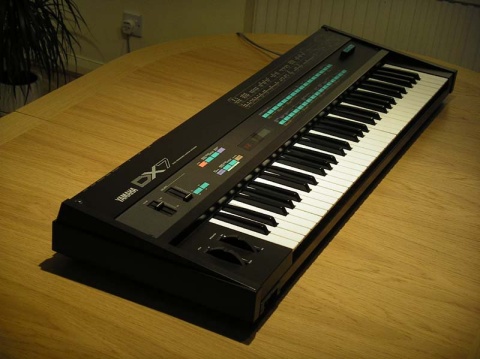 A second Yamaha instrument? By all means! Introduced in 1983, the DX7 is the sound of 1980s pop music, and its legendary digital electric piano is copied by modern synthesizer workstations to this day. The DX7 was also responsible for the decline of analog synthesizers, as many musicians sold their old gear to buy into the relatively cheap $2,000.00 DX7. Where a Prophet-5 had 5 voices, a DX7 had 16, and it would be 15 years before the renaissance in the analog sound made the older classics coveted again. Even so, the DX7 retained some of the CS-80 user expression control as it also could sense key velocity and one channel of aftertouch. The DX7 also had an input jack for a breath controller, allowing the kind of musical phrasing normally associated with wind instruments. MIDI was brand-new at the time of the DX7's release, and while it had MIDI, the spec for it was not finished yet and as a result one had to upgrade the system firmware in order to obtain the full v1.0 MIDI functionality.
The thing to note about the DX7, though, is it was the first widely successful digital synthesizer. To contrast, Yamaha sold two thousand CS-80s at almost USD$7,000.00 each. They sold over two-hundred thousand DXs at USD$2,000.00 each. Not until Korg made the M1 workstation in 1988 was a machine so wildy successful. At the heart of the DX7 is a pair of custom chips that form a digital signal processor designed to mix together sine waves using hardware-defined algorithms to create a voice. It is no accident that Hatsune Miku wears the programming panel of a DX7 on her left sleeve: much of the contemporary digital music world owes its beginning to this synthesizer.
Here is Chicago's Hard Habit to Break, where just about every keyboard sound heard is DX7, including the definitive electric piano and even the fretless electric bass.
--Crow
---